Malayalees in Malaysia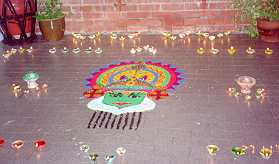 Kathakali
The Art of Kathakali
A Brief History of Indians in Malaysia
Evidence of Indians in the Malay Archipelago dates as far back as the 5th century. Traders had come for barter trade to Malay Peninsula and the Indonesian islands. At the Archeological site of Bujang Valley in Kedah, North Malaysia there is clear evidence of their presence in this region through artifects and hindu temple foundations. Later trade was predominantly in the Straits settlement states, i.e. Singapore, Malacca and Penang. Many of these traders settled here especially in Malacca and assimilated with the local indegenous people and culture. They came to be called Malacca chetties.
While the early travellers came on their free will and at their own risk, the greatest influx of migrants came towards the second half of the 19th and 20th centuries during the colonial period. Since 1830s Indians, mainly from the south were recruited from Brition's 'jewel in the crown' and brought by the British to work here in sugar and coffee plantations, and later in rubber and oil palm estates. Some came to work in the harbour and railways.
It is estimated that in 1870 there were some 30,000 Indians in Malaya. In 1891 the figure was 75,000 and in 1931 it rose to 625,000.
---
Malayalees in Malaya
While labourers were the most significant immgrants, there were others who came to fill up other posts. Many young middle class Malayalees came during the 20th century to dominate private sector posts with European firms. Their asset was having a good command of the English language. Thus, they were usually employed as conductors, clerks and hospital assistants. All of them went back to Kerala to look for wivies and returned with them. Most of them also brought along their relatives to fill up vacancies that arose in their plantation. As families expanded they began to take firm roots in Malaya, deciding to settle here for good.
---
All Malaysian Malayalees Association (AMMA)
---
Kerala Samajams
North Malaysia Malayali Samajam homepage
Negeri Sembilan Kerala Samajan homepage
Melaka Kerala Samajam homepage
Sungai Siput North Malayalee Association homepage
---
Culture and Religion of Malaysian Malayalees
---
List of Prominent Malaysian Malayalees
---
Request for More Information

Please contact me if you have any information about early malayalee immigrants to Malaya.
---
---
Any information, email me : remadm@gmail.com